Charles Gaines: 1992–2023
Nov 16, 2023 to Mar 16, 2024 - various times - English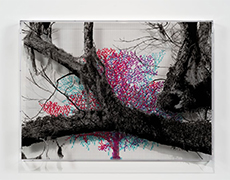 A new survey of acclaimed artist Charles Gaines opens at the Institute of Contemporary Art, Miami (ICA Miami) this November, tracing the evolution of the second half of his influential practice. Charles Gaines: 1992–2023 brings together for the first time more than 70 works from 1992 to the present day including two monumental works, one of which the artist is recreating for the first time in nearly two decades.
Show more >>
Recognized as a pioneer of conceptual art, Gaines has been at the forefront of introducing language and systems into artistic production for decades. He is widely known for his use of translating mechanisms to convert images and documents into numerical structures, musical notation, and other sign systems. The ICA Miami exhibition highlights a pivotal shift in Gaines's practice during the second half of his career, in which his work takes on even greater political and social dimension, incorporating materials abundant with preexisting cultural meaning. Among these are the Black Panthers' manifesto as well as texts by Franz Kafka and Frantz Fanon, which have been channeled by the artist into complex formal and conceptual works. This radical approach has allowed Gaines to address the issues of race and identity politics in innovative ways that extend beyond representation. Simultaneously, Gaines began to combine different media, including video and sound, into his works.
The ICA Miami exhibition brings together for the first time a number of monumental works and series that demonstrate the evolution of Gaines's approach to combining an array of materials–electronics, wood, acrylic, photographs–and transforming them into a distinct visual language. Among these is a monumental piece that is being recreated by Gaines for the first time in twenty years: Greenhouse (2003–2023) is a massive 12 by 16-foot sculptural enclosure wherein simulated atmospheric conditions identified with climate change are conflated with data visualizations of recorded temperature changes across the globe from the 15th century to the present. Another large-scale work, Falling Rock (2000–2023) is a sculpture in which a 65-lb chunk of granite drops in a randomized and sudden fashion, creating unexpected outcomes for the viewer each time. The artist is recreating these major works specifically for the ICA Miami exhibition.
The deeply complex and meticulous work of Charles Gaines (b., 1944, Charleston, South Carolina) has been included in significant exhibitions, including a survey of his early work, "Charles Gaines: Gridwork 1974–1989," organized by The Studio Museum in Harlem (New York), which later traveled to the Hammer Museum (Los Angeles). Most recently, his work has been presented in solo exhibitions at the San Francisco Museum of Modern Art (San Francisco) and Dia Beacon (New York). Gaines's work is included in prominent public collections such as the Museum of Modern Art (New York), Whitney Museum of American Art (New York), Hirshhorn Museum and Sculpture Garden (Washington, D.C.), Museum of Contemporary Art (Chicago), Hammer Museum (Los Angeles), Los Angeles County Museum of Art (Los Angeles), Museum of Contemporary Art (Los Angeles), San Francisco Museum of Modern Art (San Francisco), and Tate (London), among others. In 2022, Gaines launched his most ambitious public art project yet, 'The American Manifest', presented by Creative Time, Governors Island Arts, and Times Square Arts.
Location
Institute of Contemporary Art, Miami 61 NE 41st Street, Miami, FL 33137 (Map)
Contact Information