Female, Figuratively - A group exhibit on the female form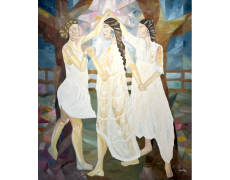 OMSA GALLERY Presents Female, Figuratively.
Selected works by 7 female artists on the female form.
An exhibit curated by Daniella Sforza , with works by:
Sofia Balut Paez
Marina Font
Heidi Lanino
Amy Laskin
Veronica Pasman
Julia Rivera
Patricia Schnall Gutierrez
Show more >>
The exhibit endeavors to hark back to the original notions brought forth by the Greco Roman ideals of a platonic notion of beauty.
This exhibit is a poetic rather political approach to the contemporary currents on notions of gender, appreciating the grammar of a certain identity and idea.
The female form rendered by women artists reflecting 7 unique perspectives with eloquent voices rendered through a visual narrative, a herstory, shared by all and understood through centuries.
Public Opening - Dec. 2 7PM - 10PM
Exhibit Dec. 2, 2023 - Feb. 15, 2024
OMSA GALLERY
Empowering Creativity, Inspiring Collectors.
OMSA Gallery is dedicated to fostering a vibrant artistic community, curating and exhibiting exceptional works of art from international and local, emerging, mid-career and established artists as well as from the secondary market.
Location
OMSA GALLERY 15661 Sheridan Street, Ft. Lauderdale, FL 33331 (Map)
Contact Information
Daniella Sforza
954-737-8438