Haunted Ballet
Saturday, Oct 19, 2019 at 8:00 PM - English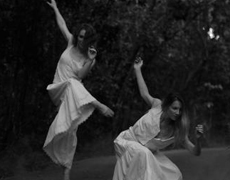 Audiences will Experience a Series of Dance Performances Portraying the Ghost Stories of Coconut Grove's History Throughout the Woods, Under the Moonlit Sky of The Historic Barnacle House.
The Haunted Ballet is the creation of Crystal Karaginis Peattie, a Miami Contemporary Dance Company alumna and founder of Center Street Projects. Now in its fifth year, it brings to life the historical characters of a bygone era who haunt the land of Coconut Grove. Through the work of professional choreographers and dancers, their stories dance beneath the moonlit sky to try to escape their tragic endings.
Show more >>
WHAT: The Fifth Annual Haunted Ballet will portray the rich history of Coconut Grove through ghost stories performed by professional dancers through contemporary dance, music and lights. This eerie experience has also been described and a beautiful and mesmerizing journey that takes you through the grounds of this historic location.
WHO: Attendees will be able to enjoy the professionally choreographed dances of the Haunted Ballet performed by some of Miami's most talented dancers and produced by creator Crystal Peattie of Center Street Projects. Guests will walk through the woods and premises of The Barnacle and encounter different stories and scenarios told through dance by diverse professional choreographers. This year's choreographers include: Crystal Peattie, Hannah Baumgarten, Ray Sullivan, Teddy Talbot and Luke Stockton. The event also features the talent of lighting designer Carla Iparraguirre.
Location
The Barnacle 3485 Main Highway, Coconut Grove, FL 33133 (Map)