Ocean Drive Promenade Music Series
Sunday, Jul 3, 2022 at 5:00 PM - English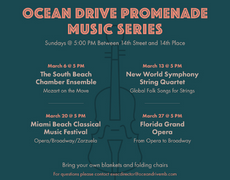 Come out to the Ocean Drive Promenade for the Miami Classical Music Festival performing Opera/Broadway/Zarzuela. Bring chairs, blankets and a picnic on Sunday at 5 p.m. between 14th and 14th place in Lummus Park!
Show more >>
The Ocean Drive Association has launched a new resident-centric and family-friendly music series, on Sundays at 5 PM on the (New) Ocean Drive Promenade located between 14th and 14th Place in Lummus Park. In 26 concerts (Feb 3 to July 31, 2022) talented South Florida performers will present concerts that are free and open to the general public. Patrons are encouraged to bring blankets, chairs and refreshments.
See the Spring Line Up: Website.
In April 2022: The Ocean Drive Promenade Music Series will celebrate South Florida Jazz, at 5 PM on Sundays, featuring:
Jim Gasior (Piano) Trio with LeNard Rutledge (Vocals) – on April 3
Edgar Pantoja (Piano) Latin Jazz Trio, with Magela Herera (Vocals and Flute) – April 10 held in The Betsy's Gallery (enter via doors at 1433 Collins Avenue).
Nicole Yarling (Violin and Vocals) Quartet with Tal Cohen (Piano) – April 17
Melton Mustafa, Jr. (Sax) Trio with special guest Nicole Henry (Vocals) – April 24
The April Ocean Drive Promenade Concerts are presented in partnership with The Betsy's 10th Annual Overture to Overtown Jazz Festival and during National Jazz Appreciation Month ("JAM"), created in 2001 at the Smithsonian National Museum of American History to celebrate the heritage and history of American jazz. In the case of rain, April jazz events will be held in The Betsy's Gallery (enter via doors at 1433 Collins Avenue).
Location
Ocean Drive Promenade 1431 Ocean Drive, Miami Beach, FL 33139 (Map)
Contact Information
Ceci Velasco
305-521-4394