Steve Turre Generations
Sunday, Aug 21, 2022 various times - English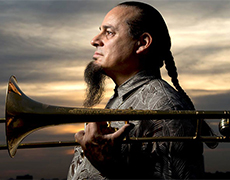 One of the world's preeminent jazz innovators, trombonist and seashellist Steve Turre swings into Keystone Korner Baltimore this August 5-7, 2022!
Trombone & shells - Steve Turre
Trumpet - Wallace Roney Jr.
Tenor & Soprano Sax - Vincent Herring
Piano - Davis Whitfield
Bass - Corcoran Holt
Drums - Orion Turre
Steve Turre has consistently won both the Readers' and Critics' polls in JazzTimes, Downbeat, and Jazziz for Best Trombone and for Best Miscellaneous Instrumentalist (shells). In addition to performing as a member of the Saturday Night Live Band since 1984, Turre leads several different ensembles. Turre's quartet and quintet provide a setting based in tradition and stretching the limits conceptually and stylistically. In the Summer of 2000, Telarc released In The Spur of the Moment. This recording features Steve with three different quartets, each with a different and distinct master pianist: Ray Charles, Chucho Valdes, and Stephen Scott.
Steve Turre continually evolves as a musician and arranger. He has a strong command of all musical genres and when it comes to his distinct brand of jazz, he always keeps one foot in the past and one in the future.
Location
Keystone Korner Baltimore 1350 Lancaster Street, Baltimore, MD 21231 (Map)