Ben Williams "I AM A MAN" Album Celebration
Thursday, Aug 25, 2022 at 7:30 PM - English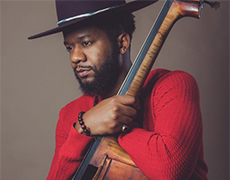 The powerfully creative bassist Ben Williams fuses the pulse and the poetry of the past, present, and future of jazz music into a uniquely compelling expression of his artistic vision. w/ Julius Rodriguez, Justin Faulkner, Chelsea Baratz, & David Rosenthal.
Show more >>
Ben Williams - bass
Julius Rodriguez - piano
Justin Faulkner - drums
Chelsea Baratz - tenor saxophone
David Rosenthal - guitar
Ben Williams is an acclaimed bassist, bandleader, performer, music educator, and composer out of Washington, DC who is coming to Keystone Korner Baltimore August 25th to celebrate his new album, "I AM A MAN"!
I AM A MAN is released by Rainbow Blonde, a new imprint co-owned by singer, songwriter, and kindred spirit, José James. Sonically, the new album departs grandly from the mostly acoustic instrumental settings of his previous albums. Williams imbued his love for modern R&B and hip-hop and his socio-political awareness subtly on State of Art and Coming of Age. But on I AM A MAN, he brings them to the fore with mesmerizing vocal-centric songs that will surely raise his profile higher in modern soul and rap circles. With help from sound engineer Brian Bender, I AM A MAN boasts a humid and hazy sound that recalls Soulaquarian albums released by The Roots, Erykah Badu, Bilal, D'Angelo, Common, and Roy Hargrove's RH Factor. "I wanted to make this not just a musical statement, but sonically, I wanted to dig into a different sound. We had the opportunity to work in the studio to craft some sounds. What you hear is Brian's brilliance with engineering. I wanted this record to deal with the past, present, and future," Williams says.
Williams won his first Grammy Award in 2013 with the Pat Metheny Unity Band for Best Jazz Instrumental Album. In 2013 he recorded with Metheny on Kin; and in 2014 he performed 157 concerts in over 30 cities throughout the world with Metheny, earning his stripes as a true road warrior. He considers his experience with Pat as transformative, saying, "Pat has been a great influence on my writing and arranging. He is one of the greatest composers alive. Seeing him work behind the scenes is unbelievably amazing. He is an incredible genius. I aspire to become the type of leader that he is because he has pushed me beyond what I thought I could do."
In 2013 & 2015, Williams received the DownBeat Magazine Critics Poll Rising Star Award for Bass. Williams became a "Rising Star" when he won the 2009 Thelonious Monk International Jazz Bass Competition Award that landed him his first record-deal with Concord Records. Thereafter, he recorded and released State of Art in 2011 with his band, Sound Effect. The Album received an impressive 4.5 Star Review in DownBeat Magazine and reached #1 on the charts of iTunes and the National BillBoard. He was named the 2011 iTtunes Breakthrough Artist of the Year in the category of jazz. Among the many awards that he has received, he received the Michigan State University (MSU) Alumni Award for maintaining the highest of standards in his profession and in his personal life as an MSU Alumnus. Williams has performed with the likes of Wynton Marsalis, George Benson, Pat Metheny, David Sanborn, Chaka Kahn, Pharrell, Dee Dee Bridgewater, Terence Blanchard, Roy Hargrove, Benny Golson, and Stefon Harris just to name a few.
Location
Keystone Korner Baltimore 1350 Lancaster Street, Baltimore, MD 21231 (Map)