The Boneshakers with Special Guest Ron Holloway
Thursday, Jun 8, 2023 at 7:30 PM - English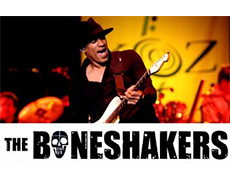 No holds barred funk, blues, and rock that marries the sounds and spirits of Detroit Rock City, Memphis, and Mussel Shoals. In the remarkable 25 year career of The Boneshakers, the iconic band has always been lead by world-renowned guitarist Randy Jacobs of Was (Not Was). The band and members have toured and recorded with Bonnie Raitt, BB King, Keb Mo, Aretha Franklin, Elton John, Bootsy Collins, Tears 4 Fears, Bob Dylan, Stevie Wonder, Gov't Mule, and Iggy Pop…just to name a few. They have built a substantial following among blues, jazz, and funk audiences with their powerhouse style.
Show more >>
Now in 2023, as The Boneshakers celebrate the 25th anniversary of their first release, a new energy and excitement has emerged. Producer John Wooler, who originally signed The Boneshakers in 1997, connected Randy Jacobs and the incredible Jenny Langer - a powerhouse singer who was inducted into the Blues Hall of Fame (NYC and VA) at the age of 28 and won the 2020 Int'l Blues Challenge for Best Self Produced Album. What started as a few tracks for her project quickly morphed in a new album with The Boneshakers featuring no-holds-barred funk, blues, and rock that marries the sounds and spirits of Detroit Rock City, Memphis, and Mussel Shoals.
Produced by Wooler, it is back to the original vision of The Boneshakers' fiery sound, with the vocal dynamo Jenny Langer behind the mic and original musicians from "The Book Of Spells" Sergio Gonzales (Drums), Nathan Brown (Bass), Jon Gilutin (Keys), The Texacali Horns (Joe Sublett, Mark Pender, and Randy's former band mate from Was (Not Was) Sir Harry Bowens on vocals. The album dropped in September 2022 and currrently sees the band touring internationally to promote the return of The Boneshakers.
Ron Holloway is an American tenor saxophonist who is listed in the Biographical Encyclopedia of Jazz where veteran jazz critic Ira Gitler described him as a "Hard bear-down-hard-bopper who can blow authentic R&B and croon a ballad with warm, blue feeling." Recently, Ron toured extensively with The Warren Haynes Band, in support of two critically acclaimed releases on the Stax Records label. Holloway is a frequent guest of Gov't Mule, Tedeschi Trucks Band and The Allman Brothers Band. Over the years, he has been a member of an eclectic roster of groups, including; The Warren Haynes Band, the Susan Tedeschi Band, the Dizzy Gillespie Quintet, Gil Scott-Heron and Root Boy Slim.
Location
Keystone Korner Baltimore 1350 Lancaster Street, Baltimore, MD 21231 (Map)