Random Patterns of Falling Leaves - Sanctuary of the Arts
Sunday, Dec 10, 2023 at 6:00 PM - English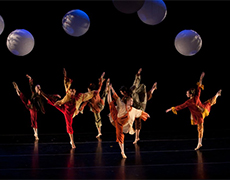 Dance NOW! Miami Presents "Random Patterns of Falling Leaves"
When fall turns to winter in Miami, we South Floridians can miss a new chill in the air and the changing color of the leaves. Dance NOW! Miami, one of Florida's leading companies, presents their Program I, timed this year to emphasize that inflection point, when they showcase one of their own repertory works, "Random Patterns of Falling Leaves." Performances take place Sunday, December 3 at Broward Center's Amaturo Theater, 201 SW Fifth Avenue, Fort Lauderdale, and again on Sunday, December 10 at Coral Gables Sanctuary of the Arts, 410 Andalusia Avenue. These evenings also include the world premiere of "Tethered" and a trademark classic piece, "Chronicles." Full info and tickets at Website.
Show more >>
"Random Patterns of Falling Leaves" is a fiery and poetic work that will transport audiences to a northern landscape as the wind slowly strips the leaves off the trees in preparation for winter. Jointly choreographed by DNM's Artistic Directors Hannah Baumgarten and Diego Salterini, it also features striking costumes and sets by Marylin Skow and Bruce F. Brown. "We are excited to be able to bring one of our favorite, breathtaking repertory works back to South Florida audiences," said Salterini.
"Tethered", choreographed by Hannah Baumgarten, is a world premiere of a contemporary ballet quartet, with music from long-time collaborator Davidson Jaconello, with Felix Rosch. The piece explores the ways in which we are all tied to each other through relationships and communities. "It's always a pleasure to develop a new work to gift to Miami audiences for the holiday season," said Baumgarten. "Chronicles" is a DNM repertory work choreographed by Diego Salterini about the perfect moments of falling in love. It was slated to be restaged in 2020 but due to the COVID pandemic, it was not.
Tickets for the Broward Center on Sunday, December 3 at 6:00 pm, are $50 reserved seating, $20 for students with valid ID; and for Coral Gables on Sunday, December 10 at 6:00 pm $25 general admission, $15 for students. Advance tickets and full information for all venues are available at website. All venues are fully wheelchair accessible, with adjacent parking available.
Location
Coral Gables Sanctuary of the Arts 410 Andalusia Ave, Coral Gables, FL 33134 (Map)
Contact Information
Kimberly Chmura
305-332-2623